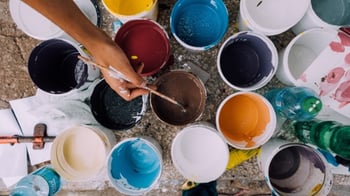 When the United States paint industry first comes to mind, you might not think of a big industry that brings in much business. However, with an annual revenue of $32 billion, the United States paint industry requires a lot of talent and effort to produce this substantial revenue. There are currently about 40,000 workers in the industry, but this number is expected to increase 2% annually over the new few years. With this increasing demand, it is more important than ever for companies in the paint industry to have access to the best talent to stay competitive in this market.
For one of DZConneX's clients, a paint and coatings manufacturer, they needed to improve their talent acquisition process immediately. They were operating in the U.S., Canada, and Puerto Rico, so finding top talent across various territories was no easy task. They knew they wouldn't get the best results possible if they did this on their own, so they turned to our experts to reorganize their decentralized process.
The Dilemma
Our client was focusing heavily on business acquisitions which took away from any focus on their talent acquisition process. They had strict talent diversity requirements in place and needed to fill a broad range of positions including maintenance, sales, technicians, drivers and more. In this notably difficult-to-source market, they had to fill high volume hourly positions while significantly improving candidate experience. Fulfilling all of these talent needs required help from an expert if this paint and coatings manufacturer was going to turn their talent acquisition process into a successful one.
The Strategy
Our highly trained and experienced experts seamlessly implemented a Recruitment Process Outsourcing (RPO) solution to finally optimize their talent supply chain after their previous failures with other talent partners. Considering this is a hard-to-fill market, one of our top priorities was to source passive candidates to expand the talent pool. Our delivery teams provided the scalable resources necessary to meet our client's evolving talent needs through our customized RPO solution.
Another one of our goals was to provide improved on-demand reporting and metrics to gain visibility into talent trends, successes and opportunities for improvements. This could be achieved through the implementation of the appropriate technology. By leveraging strategically located Recruitment Centers and in-market recruiters, our experts transformed their talent acquisition program, centralized processes, gathered critical data and assisted with job normalization.
The Impact
Our seamless program implementation allowed our client to resolve their talent acquisition challenges without any performance or production gaps in the process. With our new RPO program in place, our client acquired 32,000 new top-notch hires annually. Our signature consultative approach drastically increased our client's confidence and trust from initial program adoption throughout our continuous partnership. In the end, our dedicated teams delivered a talent solution that improved candidate experience, increased passive applicant traffic, reduced time-to-fill and ensured legal compliance at every location.
With the help of our experts, our client met or exceeded all of their talent requirements that they were unable to achieve with previous suppliers. To learn more about this successful partnership, view the full case study.