The 2023 CWS Summit Europe, is being held live and in-person May 9-10 at the Royal Lancaster Hotel in London, UK. Workforce program managers, HR professionals, and procurement specialists from Fortune 2000 companies around the globe will share valuable lessons and insights about managing today's workforce solutions.
Make new connections, and evolve your contingent workforce management strategy in an interactive and collaborative conference setting. There will be more than 24 live sessions and 2 keynote sessions where expert industry speakers will discuss opportunities for talent sourcing and engagement management, current and future technologies across the workforce solutions ecosystem, and strategies and innovations for contingent workforce program improvement and maturity.
2023 CWS Europe at a Glance
You can register for a guest pass here.
Review the official

agenda to plan the sessions you want to tune into before the start of the conference.
Multiple unique networking opportunities.
Visit DZConneX at Booth A for a chance to win to win a few prizes.
Roundtable Discussion on Gen One Programs: What to Look For In an MSP on Tuesday, May 9th at 11:30am.


Visit Us at Booth A
Stop by Booth A to say hi to the DZConneX sales team and for the chance to win two prizes - an Apple Watch and Away Carry-On Suitcase.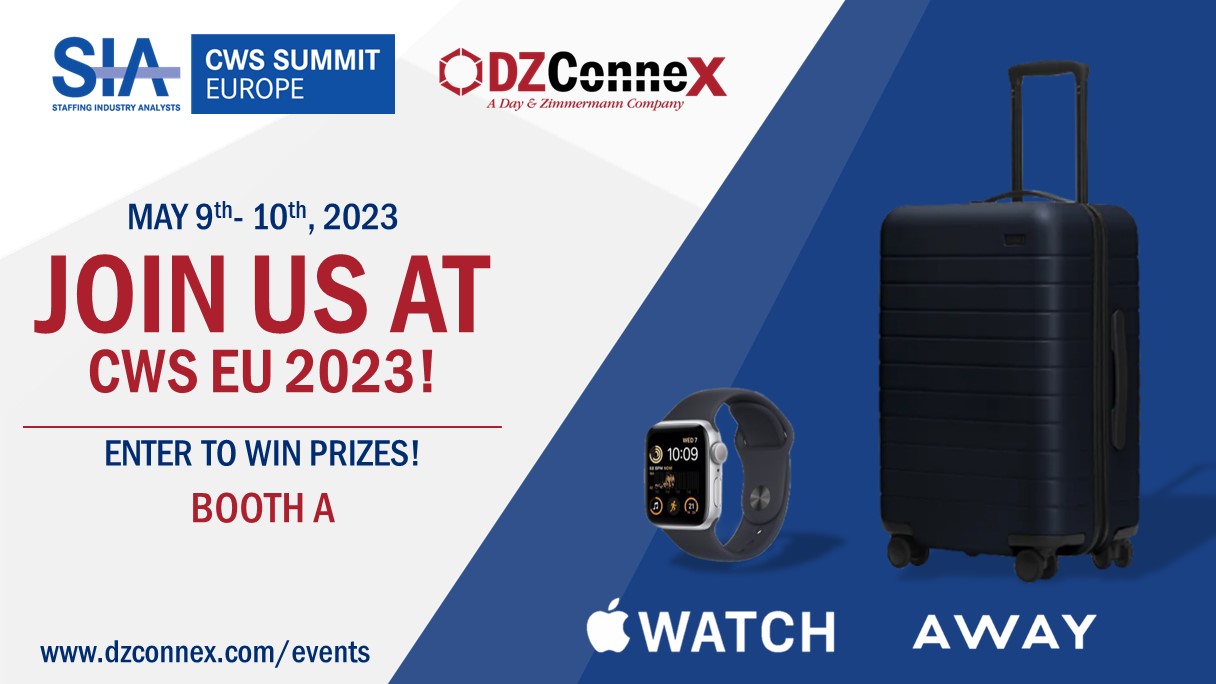 Join Our Roundtable Discussion
Global VP of DZConneX Sales, Mara Klug, will be faciliating a roundtable discussion on the topic, Gen One Programs: What to Look for in an MSP on Tuesday, May 9th at 11:30am - 12:45pm. We hope that you'll join us!
Helpful Resources for Contingent Labor Buyers & Managers
Learn more about the latest trends and best practices in your industry. Check out our most popular resources on contingent labor management.