This year's HRO Today Forum North America will take place on May 3 - 5, 2023 at the Westin Hotel in Las Vegas, NV. This event will bring together some of today's best HR thinkers, practitioners, technologists, and partners in the talent industry to discuss the best practices and helpful insights about the current talent market. Current and future market trends will also be discussed.
The theme for this year's Forum is Think It Through: Brainstorming with HR Leaders. Topics surrounding talent, diversity, leadership, technology and engagement will be discussed and explored thoroughly.
As a proud sponsor, we hope to share our experiences in the talent industry with our peers, while connecting and learning from other industry leaders as well.
Join Our Session on Pay Transparency
Chadd Dehn, VP of RPO Operations at DZConneX will be speaking during the HR Showcase, Pay Transparency - Can it Positively Impact Recruiting & Retention? on May 4th from 2:05pm - 2:15pm.

Pay transparency has become a major topic within the staffing industry in recent years as employers learn to keep pace with changing laws. Be sure to join this showcase to learn what future recruiting implications will look like because of pay transparency and why it might be key for improving retention rates and other key performance indicators (KPIs) within your organization.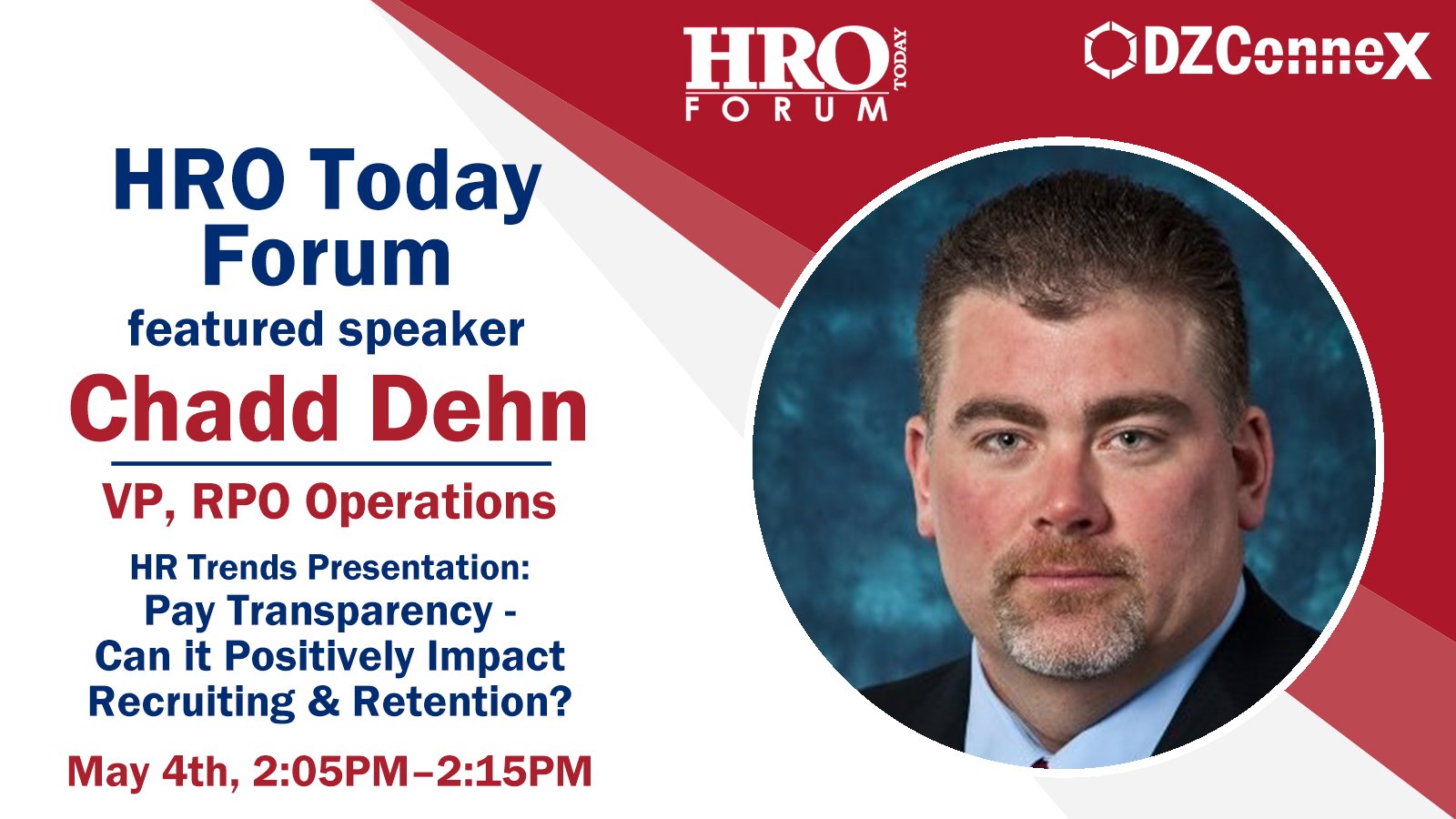 Stop by Our Booth
Be sure to stop by our booth to say hi and to connect with a Total Talent expert! VP of RPO Operations, Chadd Dehn and VP of DZConneX Sales, Robin Dahn, will be attending and will be there to answer any questions about talent solutions that you may have.
Annual Awards Gala
The HRO Today Forum North America always includes another event that everyone looks forward to, the CHRO of the Year Awards Gala! The Forum Awards Gala is a celebration of leaders across a variety of categories for their expertise, thought leadership, problem solving, and management prowess. This awards' ceremony is focused on top-level leadership and is attended by many highly-respected CHROs in industries such as business, medicine, higher education and more.
Register for the Conference
The insights and connections you have the opportunity to gain at this conference are not something that you want to miss out on. Are you interested in attending but don't have a pass yet? DZConneX has a limited number of guest passes available! Reach out to marketing@dzconnex.com to learn more.