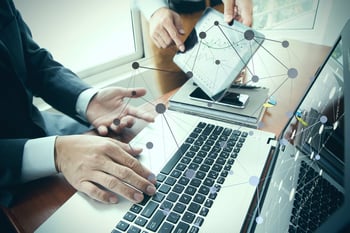 When people think of well-known companies that produce successful work in many different industries, they most likely think that company is also operating efficiently internally. However, that's not always the case.
One multinational conglomerate working on a seemingly infinite number of future-focused initiatives and high-demand projects, for example, was having a difficult time with some internal processes. Although they were producing notable results in the industries they had a hand in, their talent acquisition efforts were not as successful as they wanted them to be. For this reason, they called on DZConneX (DZX) to augment and optimize their talent acquisition processes.
The Dilemma
It's certainly possible that an organization operating in the energy, transportation, aviation, financial services, global R&D, healthcare, and everyday personal needs would be able to recruit quality talent on its own. However, it's unlikely that their internal teams would have the experience and tools necessary to acquire top talent consistently and efficiently, so the help of DZX's experts was necessary to improve their processes.
As a global leader who focuses on researching efficiency, it was ironic that their internal procedures were not be executed at maximum efficiency. Our client needed immediate assistance identifying and attracting the best talent on the market, so DZX stepped in to help with what our experts excel at.
The Strategy
For a project of this scale, our experts determined that a full Recruitment Process Outsourcing (RPO) program would be the best solution to overcome this client's challenges. Our experts would need to identify, attract and retain diverse talent for many different positions. DZX would use a high-touch, personalized approach to fulfill their unique talent requirements.
Our dedicated team of about twelve individuals used their experience and expertise to push out up to 13,000 job offers and 20,000 job postings per year as their RPO provider. We also ensured every step of the process was compliant with all client needs by conducting 10 compliance audits each month. With these newly-implemented procedures in place, DZX met every expectation and and seamlessly adapted to any changes in the market along the way.
The Impact
By assembling a team of talent experts capable of diverse, high-volume candidate identification and acquisition, our client remains focused on its customers while DZX remains focused on hiring top talent. Each of our recruiters executed 85-95 job offers every week to ensure talent was consistently entering our client's organization.
DZX delivered a 5% increase in e-offers, 5,000 external background checks per year, and 4 innovation teams built per year. In the end, DZX's dedicated team was able to seamlessly deliver scalable hiring efficiencies to a client whose specialty lies in the development of efficient products.
View the full case study for more insight into how DZX implemented an RPO program to optimize this multinational conglomerate's talent acquisition process.