The 2022 HRO Today Inclusion Summit will be taking place September 15th - 16th at the AMA Executive Conference Center in Atlanta, GA. The Inclusion Summits aims to drive systemic change and organizational performance through diversity, equity and inclusion practices. It's an event you don't want to miss!
Session Topics Will Include:
Diversity & Inclusion data, metrics and analytics
Sustaining engagement and accountability in D&I Initiatives
Aligning diversity with talent acquisition and talent development efforts
Fostering behavior and culture change
Innovative D&I training
Building a sense of belonging
Addressing and promoting racial justice in the workplace
Measuring the ROI of D&I efforts


2022 HRO Today Inclusion Summit at a Glance
Download the

2022 Event Brochure

to plan your agenda
Hear stories from diversity winners that are adopting systematic, business led approaches to DEI.
Join DZConneX's presentation, Attracting Diverse Talent - Is your Organization Really Ready?, on September 16th at 11:00 AM.
Don't miss the first ever 1st Annual HRO Today Inclusion Awards.
Network with peers and exchange best practice advice.
Join Our Session
Join Day & Zimmermann's Vice President of Talent, Diversity & Inclusion, Regina Blair, for her presentation, Attracting Diverse Talent - Is your Organization Really Ready?, on Friday, September 16th at 11:00am.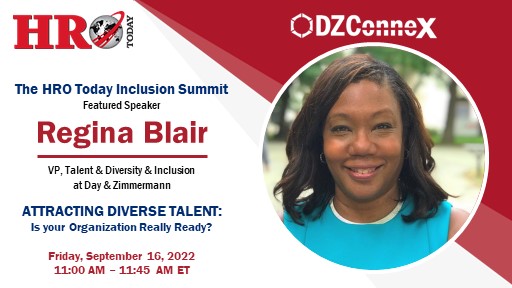 Most organizations understand that attracting qualified diverse talent is essential to staying competitive in today's business environment. But sourcing and recruiting diverse talent without a strong organizational foundation of inclusion typically results in the diverse talent 'revolving door', where diverse employees arrive to a workplace where they don't feel welcomed nor encouraged to be their authentic self; sooner than later, they voluntarily leave. This session will look at the key components of a culture of inclusion that need to be addressed before investing significant resources in diversity recruiting.
• Learn key questions to assess organizational readiness for a diversity recruiting strategy
• Understand the unique hiring challenges and opportunities faced by different dimensions of diversity
• Discuss mitigation strategies to help keep diverse talent in place once you've hired them
• Identify metrics that best track your progress over time
Register For The Event
The insights and connections you have the opportunity to gain at this conference are not something that you want to miss out on, so click here to register now and prepare to expand your workforce knowledge and learn how to create a long-lasting inclusive culture.