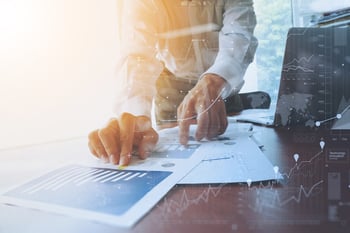 The financial services industry has grown exponentially in the past several years. Since the stock market crash in 2008/2009, the unemployment rate has drastically decreased and the wealthiest people around the world have only become wealthier.There are currently $74.3 trillion worth of assets being managed globally. Given this high number, there is also a need for a lot of talent to work in this industry.
Managing an organization's finances is a major responsibility, so finding the best talent to do this is critical for a business to succeed. In addition to having high quality talent in place, implementing technology to help manage financial assets is becoming more common with the continuous advancements in technology.
One of DZConneX's clients, an international financial services firm with 16 offices around the world, was looking for a partner to help them find the best talent to fill difficult roles. When the unemployment rate dropped and the recession came to an end, attracting talent was not easy and their current partner was not meeting their needs. They quickly needed a partner who could remove the inefficiencies in their talent acquisition program and deliver the best talent to them, which is where our experts came in.
The Dilemma
Our client, a large wealth management firm, was working with a partner that was not fulfilling their talent requirements, so they began searching for a new partner to manage their contingent talent in a vendor neutral model while also managing permanent requisition delivery. Their new talent partner would need to break a dependency the business stakeholders had with SOW engagements which stemmed from a lack of program compliance and inefficient technology use.
This dependency on SOW was causing the client to spend money on wasted resources and preventing them for sourcing the best talent configured to their unique needs. They needed a flexible and dedicated partner to help them cut costs while increasing program compliance and efficiency. When their entire talent acquisition program was put out to bid, we were awarded the business due to our industry expertise and our existing 6 year track record managing this client's permanent talent acquisition.
The Strategy
We developed a partnership with the client in which our team would manage their contingent and permanent talent acquisition program to fill critical roles in IT and professional skill sets. One of the primary goals of our strategy was to streamline the talent acquisition process by shortening the candidate interview process and improving the quality of their talent pool in order to undo their dependency on SOW engagements. In an effort to achieve these goals, our experts integrated our proprietary technology into the process to deliver and manage their total talent solution.
Our teams needed to be flexible and versatile when attracting talent because of the low unemployment rate making the jobs more difficult than ever to fill. We invested time and resources to educate the client on why they needed to break their dependency on SOW and follow our carefully designed plan to implement the talent acquisition process that will deliver the best results. We focused on engaging with our client and aligning with their internal operations and goals through every step of the talent acquisition process to ensure seamless program adoption.
The Impact
During the term of our partnership, our experts helped the client eliminate their reliance on SOW engagements and optimize their total talent process. The integration of our proprietary technology platform streamlined the talent acquisition process, improved manager visibility and provided vital reporting and analytics to help manage their talent. To ensure our program was meeting our client's needs, we continuously held strategic performance reviews with client staekholders and hiring managers to assess the current state of talent acquisition and retention.
Through these strategic reviews, we discovered that 95% of contingent labor was meeting or exceeding the client's expectations. From that talent pool, about 20% of permanent hires would stem from contingent talent conversions, and the employee retention rate improved drastically. Our experts were also able to efficiently decrease the time-to-fill by 50%, and the number of permanent hires more than doubled in multiple divisions. The client saw cost savings of 30% in their talent acquisition program over the course of 7 years by eliminating the need for SOW engagements.
With our dedication and expertise, our client's talent acquisition program was more successful than ever and proved to be a great investment. For more information on this partnership, read the full case study here.