If your organization manages or works with temporary labor processes, then you probably know about Staffing Industry Analyst's (SIA's) Contingent Workforce Strategies (CWS) Summit. Two of these conferences take place every year, the first being CWS Europe which takes place in spring and CWS North America, which is typically in mid-September.
The 2023 CWS Summit Europe, is being held live and in-person May 9-10 at the Royal Lancaster Hotel in London, UK. Workforce program managers, HR professionals, and procurement specialists from Fortune 2000 companies around the globe will share valuable lessons and insights about managing today's workforce solutions.

Make new connections, and evolve your contingent workforce management strategy in an interactive and collaborative conference setting. There will be more than 24 live sessions and 2 keynote sessions where expert industry speakers will discuss opportunities for talent sourcing and engagement management, current and future technologies across the workforce solutions ecosystem, and strategies and innovations for contingent workforce program improvement and maturity.
So, the question is - are you going?
The CWS Summit offers great insights for human resources and procurement professionals who manage temporary labor processes, statement of work (SOW) engagements, payrolling or independent contractors. From the certified trainings to networking and practical know-how of various non-employee populations, the CWS Summit is a great one-stop, annual resource for information. If you haven't attended, now is the time.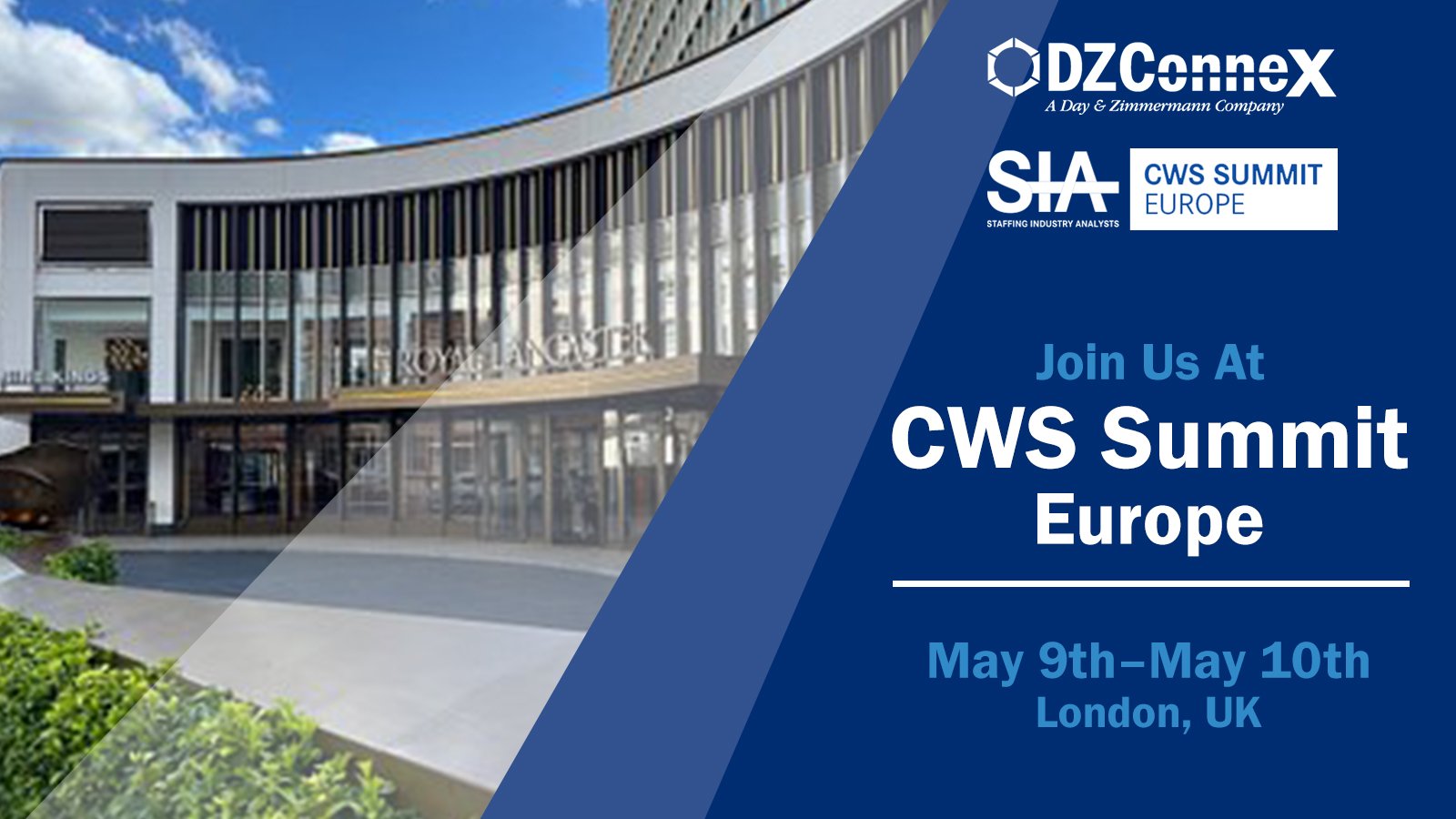 Why? Because the world of work has changed forever after the last several years. This year's theme is Driving Growth and Change in Uncertain Times. You'll get the chance to explore and learn more about this topic from some of the best leaders in the industry.

So, if you are unsure about attending, here are 10 reasons for attending this year:
10. You need an MSP, a VMS, or an RPO, ASAP, but you don't have the time to research all of your options.

9. You're wondering exactly how to leverage the right talent at the right time.

8. You've just been handed a contingent labor program to manage and you're not entirely sure where to start or what to focus on first.

7. Free stuff. Yes, we all like it, and it's OK. Go ahead, grab a journal to take notes in during all of the sessions you'll be attending. Also, stop by Booth A to say hi to the DZConneX sales team and for the chance to win two prizes - an Apple Watch and Away Carry-On Suitcase.

6. You still don't know one or more of the following acronyms: SOW, MSP, VMS, or RPO.

5. You've never even heard of any of the acronyms above before.

4. You have more temporary workers than ever, but you didn't get any additional resources to help you manage them.

3. You haven't quite learned how to leverage the right talent at the right time.

2. You're wondering how to drive growth and change during uncertain times.

1. DZConneX will be there and you haven't talked to us yet (come talk to us).
CWS Summit Europe will be taking place in person on May 9-10 in London at the Royal Lancaster Hotel. If you decide to attend be sure to stop by our booth to meet our total talent experts who will be available to chat and learn more about DZConneX and our Total Talent Solution Offering! Oh, and guess what? If you don't have a pass already you can sign up to be our guest here! But hurry, complimentary guest passes are limited.
We hope to see you there!