We are pleased to share this blog from Everest Group analysts, Krishna Sai Charan, Practice Director, and Jaskaran Singh, Senior Analyst.
Formalizing services procurement can provide many cost and strategic benefits for enterprises. To understand the key considerations and how Contingent Workforce Management (CWM) providers can help, read on.
As companies continue to emerge from the pandemic and face a looming recession, enterprises now realize the importance of having flexibility and agility in acquiring and managing talent. With the talent shortage, companies also are moving toward hiring for specific skills rather than by the category of workers. As a result, the strategic use of the contingent workforce is on the rise.
What Is Services Procurement Management and Why Formalize It?
Services procurement is acquiring people-based services to perform project-based work with an agreed-upon scope and deliverables through a contract with fixed prices and milestones that is governed by a Statement of Work (SOW).
In short, it is a mechanism for enterprises to hire individuals or teams from suppliers for a specific purpose. Services procurement forms a big piece of the overall contingent workforce spend but is often overlooked and poorly managed.
While organizations spend significant amounts and rely heavily on services provided by consulting firms, IT providers, accounting and law firms, marketing agencies, call-center operators, and facilities management companies, they typically see these activities as procurement than talent acquisition.
Because the services procurement process is often decentralized and unstructured it leads to a lack of visibility, increased misclassification risk, compliance issues, and non-competitive sourcing.
In addition, services procurement is further complicated by the associated talent angle as well as processes such as outcome tracking that are not integral to other procurement processes as depicted in the following graphic: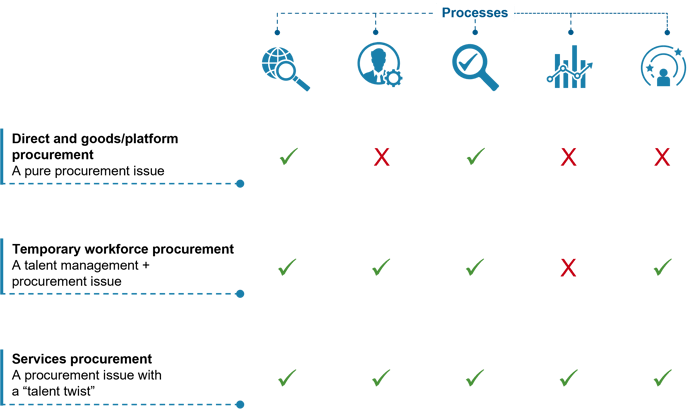 Benefits of Formalized Services Procurement Management
Services procurement should be treated as the acquisition of skills or work to be performed rather than purchasing goods and materials. Viewing it this way, makes it logical and imperative to formalize services procurement management, preferably within an existing contingent workforce management program.
Having formalized service procurement can help enterprises realize the following benefits:
Increased visibility: Provides visibility into overall project management, spending on services in the different functional areas (IT, legal, etc.), active projects under each spend category, and the overall contingent workforce spend
Preventing misclassification: Prevents misclassifying staff augmentation labor as services procurement, thereby saving costs, increasing management efficiency, and lowering compliance risks
Efficient sourcing: Ensures competitive bids are secured to get the best price. Having unstructured and non-competitive engagements with suppliers restricts organizations from obtaining the best solution at the best price
Better compliance: Provides a way to monitor suppliers' adherence to company policies regarding health and safety, data privacy, certifications, etc.
Performance management: Provides organizational decision-makers with historical data and insights to make informed rehiring decisions based on technology solutions that can
capture 360-degree feedback on external service providers
Now that we understand the value of formalizing services procurement, let's look at the following key considerations before beginning the journey:
Building a business case: Clearly outline the business objectives and include risk evaluation, timelines, cost-benefit assessment, readiness assessment, and other operational details
Gaining executive buy-in: Securing executive buy-in from the various critical business functions including HR, IT, legal, and finance is critical to ensure smooth execution
Involving stakeholders: Having stakeholders from different business functions/units involved from the get-go is important as they are the end consumers and generators of services procurement demand
Investing in technology support: Having appropriate services procurement technology that supports administration, business process execution, and integration with other systems is vital for a successful services procurement management program
Leveraging service providers: Evaluating the cost, benefits, and risks of contracting with an external service provider to manage the services procurement are essential


What Can a Contingent Workforce Management (CWM) Provider Support?
Typically, organizations engage with Contingent Workforce Management (CWM) providers to manage their staff augmentation spend. Some CWM providers also can help organizations across the service procurement value chain starting with properly defining and categorizing services related spend to execution and management. In addition, organizations increasingly are turning to providers to manage services procurement spend to deliver the following advantages:
Subject matter expertise: CWM providers have the expertise and talent focus to build, execute, and maintain services procurement management programs for firms
Better visibility: Having a CWM provider manage services procurement spend can offer greater visibility and insight into spend under management, headcount, supplier performance, leakages, tail spend, etc.
Vendor Management System (VMS) selection and management: CWM providers can help firms select, implement, and manage an appropriate VMS by considering their overall needs, integration requirements, operational geographical locations, and architectural requirements
Sourcing augmentation: CWM providers can help with efficient supplier selection and vendor management. These providers can further increase process efficiency by partnering with vendors of Statement of Work (SOW) authoring tools and supplier sourcing platforms

As the contingent workforce continues to be used strategically by companies to meet talent needs, it becomes more important for enterprises to have better visibility and control over all categories of these vital workers, which includes independent contractors, freelancers, gig workers, consultants, and other temporary employees.
Having a structured services procurement management program is imperative because it represents a big chunk of the overall contingent workforce spend. By including services procurement management under the broader contingent workforce management program, firms can better plan to meet their overall skill requirements – making it the right move in today's times.
About the Authors:
Author 1: Krishna Charan ("Krishna Sai Charan is a Practice Director at Everest Group and a member of the Business Process Services team. He assists clients on topics related to the entire talent acquisition and management value chain, covering permanent and contingent talent services and technology. Krishna's responsibilities include managing Everest Group's Recruitment Process Outsourcing (RPO), Contingent Workforce Management (CWM), Vendor Management Systems (VMS), and Freelancer Management Systems (FMS) research across both published and custom decision support offerings. Prior to joining Everest Group, Krishna was a Senior Business Analyst with Evalueserve. He holds a bachelor's degree in pharmacy from Birla Institute of Technology and Science, Pilani, Rajasthan.")
Author 2: Jaskaran Singh ("Jaskaran Singh is a Senior Analyst on Everest Group's Business Process Services team with expertise in talent acquisition areas focused on Contingent Workforce Management (CWM). He assists clients by providing strategic insights and consultation around evolving areas in the industry, go-to-market strategy, peer assessment, and competitive intelligence on all topics related to talent acquisition. Prior to joining Everest Group, Jaskaran worked as a sales excellence specialist with Honeywell International. He holds a bachelor's degree in engineering from Guru Nanak Dev Engineering College, Ludhiana, and a master's degree in business administration from Narsee Monjee Institute of Management Studies (NMIMS), Mumbai.")