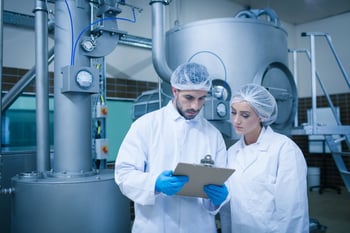 The $97 billion United States food manufacturing industry employs approximately 1.5 million people, and they are responsible for the production of many of the foods eaten around the country everyday. Companies operating in this industry need to stay organized to ensure they are meeting the high production demand.
One of DZConneX's (DZX's) clients operating in this industry was struggling to efficiently keep track of their talent, so they needed to make some changes. To help them gain visibility into their workforce and processes, they called on DZX's experts to put them on the path to success.
The Dilemma
As a massive company with manufacturing facilities around the country, having full visibility into everything happening within the organization can be challenging. Our client was having a difficult time keeping track of their talent acquisition processes which was leading to internal inefficiencies.
DZX's experts needed to implement new talent acquisition and tracking methods for our client at their manufacturing facilities and their corporate headquarters. Considering this company was in the process of being acquired by a multinational conglomerate holding company at the time DZX joined them, gaining visibility into their workforce was more crucial than ever.
The Strategy
DZX decided that the best plan would be to give their talent acquisition processes a complete overhaul after an in-depth screening of their existing processes. Our experts focused on ensuring that our client knew the talent coming in and out of the organization, how much they were being paid, and metrics measuring the success of all talent acquisition efforts.
While some services and processes could be standardized, DZX determined the project would require custom Managed Services Provider (MSP) programs tailored to each of the company's unique talent communities and markets. By operating under one organized MSP umbrella, DZX's experts were ensuring compliance and identifying cost savings to at the company's corporate headquarters and all facilities.
The Impact
With the implementation of our master MSP program, efficiency in all talent acquisition efforts improved. Hourly bill rates decreased, turnover was reduced, and access to top talent became more available than ever before. DZX's experts were able to efficiently manage more than 600 supplier contracts and provide clear visibility into their total talent processes.
What was previously a decentralized, unorganized operation is now a fully stable and consistent operation. Our MSP program now allows our client to receive insight at a moment's notice to identify saving opportunities and any additional efficiencies that can be made throughout their organization.
To learn more about the success of this total talent overhaul, read the full case study.